The League of Friends has two ways in which you can help:
Tea Bar and Shop
We are always looking for new volunteers to help run the shop. Please note that a DBS check and attendance on courses will be required.

If you would like to become a volunteer and are over 16, please contact Pat Thomsett-Jones on 01304 364952.
The Annual Hospital Fete

The fete takes place on the first Saturday in August in the grounds of the hospital. We are always looking for volunteers to help organise and run stalls – tombolas, games, books, bath & beauty etc. If you are interested in getting involved then please contact Margo Laing on 07793 559936 or email margolaing04@gmail.com.
Donate or Remember us in your will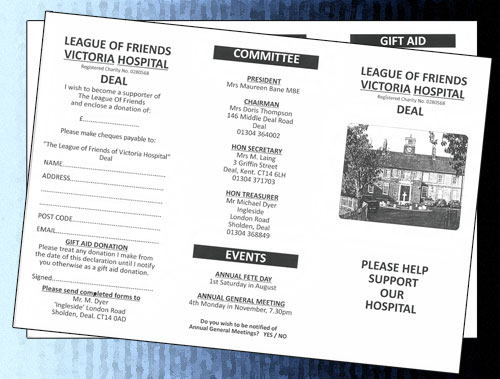 If volunteering isn't for you, then you can also support our work by making a donation. Donating is easy. Just download the form by clicking the image on the left and return it with a cheque to Mr M Dyer at the address shown on the form. If you are a tax payer then gift aiding your donation will add 25% to the amount given.
Many people wish to show their gratitude to the hospital and choose to show their appreciation by leaving  a legacy to the League of Friends in their will.
A legacy left to a registered charity is not included in the valuation of an estate for inheritance tax purposes. If this is of interest to you, it is suggested that you consult your solicitor. You can ask our Treasurer for more information. Call Mike Dyer on 01304 368849.